 What is Subjective?
At first glance, Subjective is just another Denver coffee shop. Take a look behind the curtain though, and you'll see all of the stuff we have going on that truly set us apart.
Our back-of-house warehouse houses and supplies raw coffee not just for us, but also for several roasters throughout the front range. We are a one-stop-shop for industry professionals to come learn about coffee, to import larger amounts of coffee (we have storage space and co-buying offers), and we are actively putting our money where our mouth is to cut out middlemen so that we can pay our farmers more. Our goal is to limit the amount of hands in the supply chain so that we can pay the people who grow our great coffee as much as we can.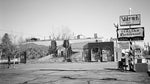 Our Shop
We've built our Westminster coffee shop with our customer experience in mind. We have tables built near outlets for those who work from "home" and want to post up at the shop all day. We've got a lounge area perfect for hanging out and enjoying a coffee (or a beer!) with friends. We've even got some tables set up with some board games and cards for when you've got the gaming crew together. Anything you want out of your neighborhood coffee shop - we've got it.
Industry Services
We've taken a stand in our industry-forward back-of-house. We have a free-to-use cupping lab for any friendly neighborhood professionals (keep it clean, please) to come through and test their new coffees, test our coffees, and practice their cupping and espresso skills. We have ample storage space to help alleviate growing pains (need 5 pallets, but only have room for 2? We got you!), and we offer cobuying and brokering services as well. If you need to split a container with another local roaster, we'll either split it with you or we'll help you find someone who will.

Anything else you need? Drop us a line below and let's get to work.